1.2m adult children still living at home
Rising house prices are thought to be behind the 37% increase in the number of adult children living with their parents in the past decade.
What's the latest?
The number of adult children living with their parents has jumped 37% in the past decade as house prices have soared.
An estimated 1.2m people aged between 25 and 34 still live at home, according to insurer Aviva.
The group said the sharp increase coincided with a 45% hike in average house prices for first-time buyers.
If the current trends continue a further 452,000 young people will find themselves unable to fly the nest in the next 10 years.
Why is this happening?
The main driver of the trend is thought to be rising house prices, which make it difficult for young people to afford their own home.
The research found that the cost of the average property bought by a first-time buyer had risen from £146,000 in 2006 to £211,000 in 2016.
Nearly two-thirds of adult children living with their parents said they did so because they could not afford to move out, while 48% said they stayed at home so they could save money.
But 24% admitted they lived at home because they liked being looked after, while 14% said they were there to look after their parents.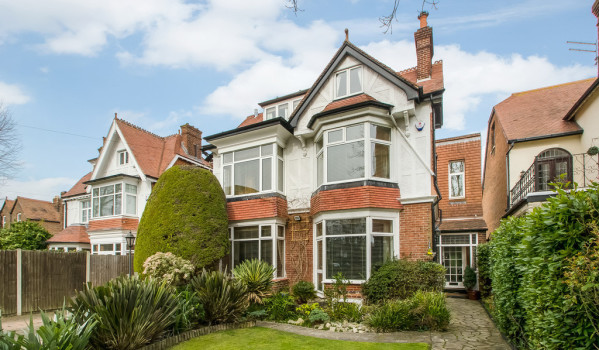 Above: An Edwardian family home in Southsea, Portsmouth
Who does it affect?
The good news is that nearly half of young people who were still living at home said they were very happy.
But their level of contentment declined with age, with 28% of people aged 30 to 34 saying they were very unhappy with their situation.
People expected to be 28 years old on average when they moved into their own place, although 8% admitted they did not think they would ever stop living with their parents.
Not everyone expects to get on to the property ladder when they do leave the family home, with a third of young people admitting they did not think they would ever be able to afford their own property, while 21% thought they would only own a home if they inherited it.
Sounds interesting. What's the background?
The struggles young people face getting on to the property ladder have been well documented.
A recent research report said the Bank of Mum and Dad was expected to advance £6.5bn to help their adult children purchase a home in 2017, making them equivalent to the ninth biggest lender in the UK.
A separate report by the University of Reading also warned that the best hope for first-time buyers to get on to the property ladder was a house price crash.
The Government has introduced a number of schemes to help people struggling to afford their own home, including the Help to Buy scheme, which helps people purchase a home with just a 5% deposit, and Starter Homes, under which people can buy a property at a discount of 20% of its market price.
Top 3 takeaways
The number of adult children living with their parents has jumped 37% in the past decade

An estimated 1.2m people aged between 25 and 34 still live at home

The increase coincided with a 45% hike in average house prices for first-time buyers
Related articles